Find Top VoIP Providers For Your Business
Uncategorised
8th September 2021
After a year of uncertainty and as many businesses pivoting online and increasing remote work, phone and video connection is more important than ever. Luckily VoIP providers can offer business phone services that are also more accessible than ever to use the most cost-effective, reliable way to make calls.
If you are looking to partner with the best VoIP service providers that can support you through set up and help you use the VoIP phone service to its maximum capacity, this article can help you understand what to look for in a VoIP provider and make the best choice for the best VoIP service for you and your company.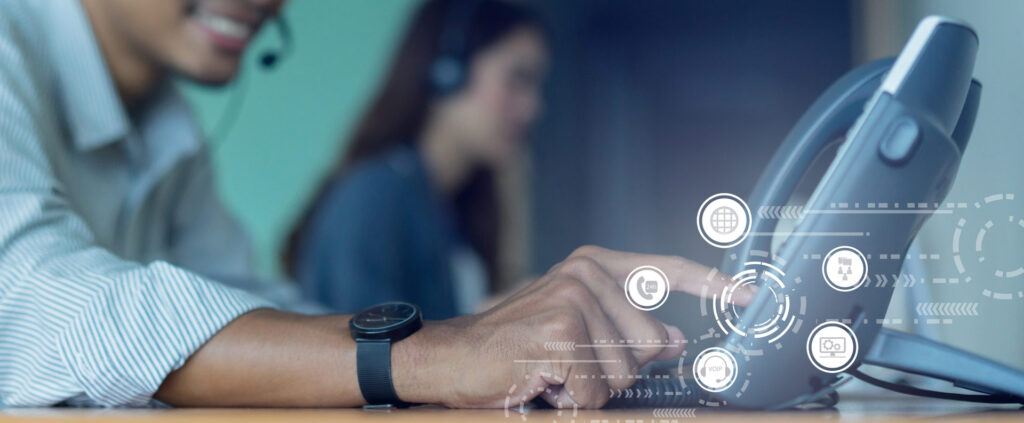 Top Benefits of VoIP Vs. Traditional Telephone Systems
Although packages will vary from company to company, most of these benefits are standard features of VoIP providers:
Most VoIP providers will allow for conference calls as well as one-to-ones. This can be much more convenient as you can have all your team members in one place. As VoIP uses an internet connection, it is also possible to have video calls rather than audio alone. This can improve communications, especially when multiple people are on a call.
If the nature of your business means you can't always get to the phone, VoIP can allow you to record your messages. The bonus of using VoIP over traditional phone systems is that you can access the voicemail from anywhere you have connected your devices, from your office phone to laptop to mobile device.
Move Between Home, Office and On The Go With Ease
Now more than ever, it's essential to move from working at home to the office. Now you can switch with ease as VoIP works over the internet. It allows you to access your account, make and receive calls with any of your supported devices wherever you are.
Keep your customers entertained instead of waiting in silence when on the line before a call or between transfers.
What To Look For From VoIP Providers
There are a few factors to consider when choosing the best VoIP, and packages within the same provider may vary.
What features do you need? For example, do you need a virtual receptionist or an easy to scale plan?
How many devices/people will be using the VoIP?
Security and privacy. As a VoIP service uses the internet, you need to ensure your internet security is top and that your VoIP phone service takes its security seriously. Our Microminder VoIP is secure as it uses built-in continuity and re-routing to avoid problems.
What customer support the provider offers. Microminder focuses on delivering top quality customer service on the phone and through chat and messenger features.
Best VoIP Providers
All of the services below provide VoIP services or Voice over Internet Protocol. If you want to read more about VoIP systems and how they work, read our previous post 'VoIP Phone System | Getting started with your business telephone system using the internet today'. Essentially VoIP refers to using the internet to make a phone call, rather than using traditional telephone systems that are less reliable and more expensive than VoIP.
Microminder is an all in one VoIP cloud-based phone system for small and medium-sized businesses.
Pros Of Microminder VoIP Service
No upfront fees.
Free calls to many UK numbers.
Fast and easy setup.
Scalable service as your company grows and adds new team members or new office locations.
24/7 IT support and only 13 seconds call answer time, so you know the team are on hand at a moments notice to help you when things go wrong.
Cons Of Microminder VoIP Service
More expensive than high street providers. However, this is because high street providers are mainly geared up to work at consumer levels. Therefore, the infrastructure they use to support individuals is insufficient to work with small to medium-sized businesses. Our Microminder services use commercial units which are higher grade to cope with being used throughout the day (and night!).
RingCentral is a VoIP service for medium to large size corporations in any industry.
Pros Of RingCentral VoIP Service
User friendly with app integration.
Variety of plans to suit your needs.
Cons Of RingCentral VoIP Service
Plans can be elementary, especially the entry-level deals.
Ooma Office – Best for Non-UK Small to Medium Businesses
If you are a small business based in the UK, try Ooma Office's VoIP services. The Ooma services are available in North America and offer a deal for US and Canadian customers. Making them a good choice for small businesses who work remotely or organise many calls with clients throughout the day.
Pros Of Ooma VoIP Service
Offer a virtual receptionist.
Great for North American customers.
Also, offer Ooma for residents, including a home phone and home security.
Cons Of Ooma VoIP Service
Ooma needs to configure the phones manually.
Video conferencing only comes with more advanced plans.
Zoom – Best for Non-UK Large Businesses
Zoom has been a service used by many over the last year in lockdown, and they can offer cloud phone system solutions for large businesses that have offices all over the world.
Pros Of Zoom VoIP Service
Secure and reliable.
HD video calls.
Global coverage.
Cons Zoom Of VoIP Service
Costs are worked out per user. Therefore expenses can soar quickly.
Summary
Now you know more about what makes an excellent VoIP service and what to look for when purchasing a plan, and who are the best of the best VoIP providers. Contact us to begin the set-up of your Microminder VoIP UK system today.
Back to News