VoIP Phone System | Getting started with your business telephone system using the internet today
News and Blogs
30th August 2021
Ready to start using a VoIP phone system in the office and capitalise on the excellent benefits of utilising newly developed technology to make calls using the internet?
Here is a closer look at what you might need to know when considering a switch to more reliable, better quality and more affordable business calls using VoIP systems.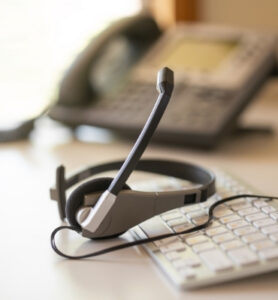 What Is A VoIP System?
VoIP stands for Voice over Internet Protocol. Some people also use the term internet calling to refer to the VoIP system. The critical difference between VoIP telephone systems and traditional phone networks, also known as public switched telephone networks (PSTN), is that a VoIP phone system works with the cloud. Meaning your voice can transcend across as a digital signal as an internet phone call rather than using landline services. VoIP technology is a rapidly expanding area of communication with the help of improved broadband speeds and increasingly reliable internet connections.
How Does A VoIP Phone Work
Transmission of a phone call using VoIP systems will use your auditory information, process it digitally, and send it over using the internet. A VoIP phone can look exactly like a landline device, or you can use your VoIP system app to answer and make calls from a mobile device using specifically designed software.
Why You Should Try The Microminder VoIP Phone Service
The reason cloud-based VoIP phone systems business work so well is that they require less infrastructure and hardware to operate, and this, in turn, means there is less maintenance involved. Meaning VoIP systems can be a more dependable and affordable system than traditional means of phone calls. You can also obtain the benefits of the system's flexibility as you can accept or make calls from all your devices, including a desktop computer, phone and mobile devices.
The benefit of organising your VoIP through us is that you can get 24/7 IT support to help you get started and use the service to its full potential.
What Is Needed For A VoIP Telephone System
Before installing your VoIP phone system, you'll need to ensure you have a strong internet connection on site. Secondly, you will need an IP phone to make calls from a phone that isn't a mobile device. If you wish to use your computer, we also recommend investing in a headset and microphone. The best accessories for your computer will plug into your desktop without the need for additional adaptors.
How Much Does A VoIP Phone System Cost
There are no upfront fees for this business phone systems VoIP service at all.
Charges for VoIP from VoIP providers UK are, on the whole, much cheaper than traditional communication methods. This is for two reasons. Firstly, the system uses less infrastructure, which can be expensive to install and leads to fewer maintenance costs in the future. Additionally, the hardware and technology involved in VoIP systems are newer and more advanced. Therefore, it is more reliable and shouldn't need much repair work in the future, leaving you to get on with business as usual. Furthermore, VoIP systems only need ethernet connection to run; hence this allows even small companies to set up reliable, secure communications networks on-site for a fraction of the cost of traditional phone systems. Secondly, individual calls are often cheaper as there are no premium charges for long-distance calls. This is great if you have offices abroad or work with international clients. As a bonus, our VoIP phone systems London also offer unlimited free calls to a set of UK numbers.
The overall price for a VoIP phone system will depend on a number of factors, including (but not limited to) the number of people who need access to the phone system, how many IP phones you need to be delivered etc.
How To Setup VoIP Phone System
Now you understand how VoIP systems work and how it can benefit your business to switch to this type of system, are you ready to make the switch? Setting up your VoIP system is more straightforward than it ever has been, and soon you'll be making and receiving calls through the internet. Contact Microminder to discuss how to get your business started with a VoIP system today.
We are confident that we can be the trustworthy VoIP provider you have been searching for, so please don't hesitate to contact us with any queries you may have. In addition, if you need a little extra assistance to get you started once you begin the set-up process, we also offer support on the phone or via messenger from our website.
Am I Eligible For VoIP Systems?
The beauty of VoIP services is that there are few boundaries when it comes to setting up the system. Any business with an internet connection on-site can switch to VoIP.
What Is The Quality Of A Call Via VoIP?
The quality of a call using VoIP services is typically similar to a traditional phone call. The only factor that can impact your call quality is your internet connection. Therefore, you may wish to upgrade your internet to allow for the best quality phone calls.
What Is The Reliability Of A Call Via VoIP?
The reliability of calls using the internet is often better than using landline systems as long as you have stable internet on the premises. In many ways, this is much more reliable than traditional phone call methods as these may be compromised by external factors such as damaged or broken phone lines in your area.
Ready To Switch Your Small Business Over To A VoIP System?
What are you waiting for? VoIP systems are more reliable, generally higher quality, and on the whole cheaper than using traditional forms of telephone communications. Contact us to discuss switching to Microminder VoIP systems.
Find out more on VoIP
Back to News