Meet Microminder: Robert Moore
Uncategorised
30th January 2020
Get to know the people behind the service. Meet Microminder interviews our team so you know who you're working with, and what you can chat to them about over a cup of tea! This week we're speaking to one of our engineers, spoiler alert – he has very cool hobbies. Take it away Rob!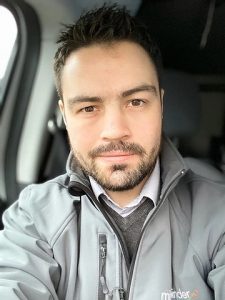 Who are you? Robert Moore
What do you do? Field service and Telephone support engineer
What does that mean? I do a mixture of roles between the helpdesk and on-site field work. When on site, I am resolving issues such as downed servers, network connectivity problems and performing installs for practises. On the helpdesk – it's my job to remotely support and resolve escalated issues.
Where do you live? Motherwell, Scotland
How long have you worked for Microminder? I'm relatively new to the company having only started in February 2019!
What's it been like so far? Coming from a vastly different role it's been a nice change of pace and have found myself right at home in the team. Despite the large size of the company, Microminder had a very personal feel right away, and I like that!
What did you do before? I'll have been in IT for 7 years this year. I started out in a IT and Telecoms apprenticeship where I through caution to the wind, knuckled down and learnt the ropes!
In that time I've been exposed to a myriad of technologies old and new and had mentors with decades worth of experience that I constantly bounced off of, always trying to be just as knowledgeable. Working for an MSP meant I got to see the different ways companies operated with their IT infrastructure and that was very interesting to me.
I'd like to think the experience has made me an adaptable engineer – you can pretty much drop me off anywhere and I'll get the job done!
What's your favourite part of the job? The fix. It's a a rush when you're faced with a challenge and the hard work, patience and determination pays off. It's a great feeling, like solving a big puzzle!
Tell us what excites you most about the future? The future of Microminder is certainly going to be interesting. With tech moving so quickly its exciting to think what we'll be doing to make clients lives easier in another few years time. Maybe we'll be utilising more of the Internet of Things (IoT) products to improve our clients technology experience. Remote internet powered doorbells, preheating the practise before your and your patients arrive in the morning via your phone – it's all possible!
Where can we find you when you're not working? When I'm not with my family you can find me at the Gym training in MMA or making music – video games and the odd book make it in to the mix from time to time too!
Back to News